Meditation Changes Everything
So much of the stress and tension we normally experience comes from our mind, and many of the problems we experience, including ill health, are caused or aggravated by this stress. Just by doing breathing meditation for ten or fifteen minutes each day, we will be able to reduce this stress.
We will experience a calm, spacious feeling in the mind, and many of our usual problems will fall away. Difficult situations will become easier to deal with, we will naturally feel warm and well disposed towards other people, and our relationships with others will gradually improve.
We should train in this preliminary meditation until we gain some experience of it. However, if we want to attain permanent, unchanging inner peace, and if we want to become completely free from problems and suffering, we need to advance beyond simple breathing meditation to more practical forms of meditation, such as the cycle of twenty-one Lamrim meditations explained in
The New Meditation Handbook
by Geshe Kelsang Gyatso
Beyond Ourself
In this workshop we will learn how to be governed by compassion, and discover how to make our life meaningful. We'll also be introduced to the Bodhisattva's Way of Life and how to integrate the Bodisattva's actions of giving, moral discipline, patience, effort, concentration and wisdom into our busy daily life, and discover the joy of living a life of altruism.
Register here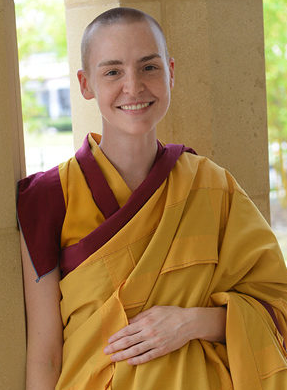 Join us for Sunday Dec 17th
Guest Teacher Gen Demo, will be giving teachings on the power of compassion.
Gen Kelsang Demo is the Midwest Spiritual Director, and the Resident Teacher at Kadampa Meditation Center Washington DC. She has been a student of Venerable Geshe Kelsang Gyatso Rinpoche for over 25 years and has been teaching Kadampa Buddhism since 1996.

Gen Demo is deeply respected as a teacher and practitioner. She demonstrates a wealth of practical knowledge and provides clear and inspiring teachings for people of all levels of interest.
Register Here
Long Life Retreat, kids classes at KMCWA, gifts from Venerable Geshe Kalsang Gyatso Rinpoche.
Classes and Events Coming Up